The English refrain to this song described my situation until last Monday.
You know, the closer you get to something
The closer I got to graduating…
The tougher it is to see it
The harder it was to see it happen, since failing English first semester really took the wind out of me.
And I'll never take it for granted.
But, I passed English this marking period, and I'll never take that for granted.
Let's go!
My final marking period of high school… Let's go!
From when I learned I failed in January until Monday, it was like I was living under constant pressure. Even physically, I began to weary, and stress entered my life like never before.
I tried my absolute best this marking period, and I passed! With a D. But I passed all the same.
I had a bad dream last Friday morning. I dreamed I had recovered the lost records of some person who was lost on an abandoned, derailed train. The train had all sorts of plant life growing inside it, but there was something sinister there. I recounted his encounters with certain supernatural anomalies on the train. The entries got more frantic and shorter, until I read the last one. <?php date("Y F j"); > That is to say, today's date. That's all the entry was, but it freaked me out. The person went missing and his last entry updated itself to be current every day.
I think I should make this into a game some day.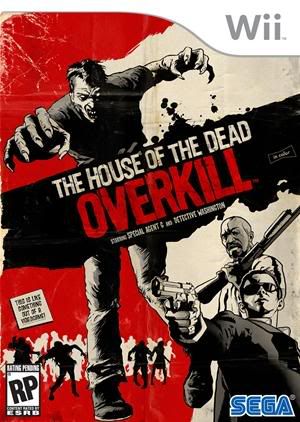 The Nintendo DSi came out last Sunday, but I didn't get it. I have two DS Lites I need to trade in, and to do that I need to go to Gamestop, which happens only once in a rare while (and while I'm there, I stock up on other games too- this time it'll be Pokemon Platinum and Final Fantasy Crystal Chronicles: Echoes of Time). Plus, I can wait. In the meantime, I've been so wrapped up in The House of the Dead: Overkill, it has my personal game of the year nomination for now. The House of the Dead 4 became my favorite arcade game in October 2006, and I was hesitant to hope that another game could come close to it, especially after Resident Evil: The Umbrella Chronicles failed to achieve exactly that. But it is so much fun, and has the absolutely funniest cutscenes, that it's almost become a ritual for me.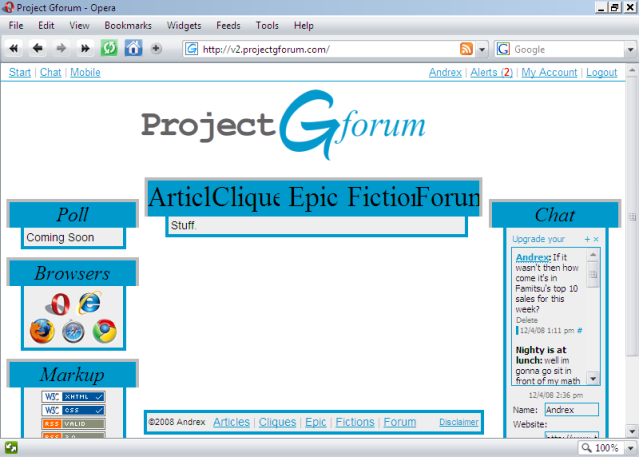 Project Gforum Version 2 launched on April 1st, and the response was pretty positive. I got so wrapped up in development that I became sick of the doodles I drew of it in my notebook. Yes, in place of cartoons or abstract art, I draw concepts for websites, programs, and games. It allows me to streamline the user interface on my down-time, and then dedicate all my time home to implementing it. Version 2 is the reason my game got put on hold, and in fact was the cause of a lot of disruption in my life. There's a lot that didn't make the cut, but I'm very happy that I finally released it- it was another huge weight off my shoulders these past two weeks that I'd been carrying for so long.
But of course, when I let go of something, I then grab hold of something else. Projects I have in the works:
Temple of Andrex Version 5
Note Database Website Project
A Game
Ongoing Project Gforum Work
Gforum Epic
The new Temple of Andrex (and I've finally decided to commit my Internet name and real name together, finally uniting myself online) won't be too hard, and it'll use WordPress. Because this blog now uses pages, I have a lot less use for the Temple, but I promised to keep it going until August 11, 2012, so that's what I'm going to do. Meanwhile, the promise I made earlier this year about "existing without projects being juggled around" will have to wait until later in the year, unfortunately. Maybe when I get that job at the movie theater, I'll stop. I wouldn't bet on it, though.
Spring vacation starts tomorrow, yay. When I come back, the remaining year will blaze by. I know this. Time to savor what I can.
-Andrew