March is coming to a close. This bring the present to April, which is only two full months from the end of this school year. Wow. Really that's all I can say since I have gone so far from when I started this blog and when I entered high school. Wow.
Each year my school hosts a college fair that lasts for two periods and features about thirty or so local colleges caballing together to recruit students. It is mostly aimed at students in my own grade.
My first year college fair was spectacular and one of the defining moments of my high school career. This was because it was during what has thus-far been my favorite class of the past three years, Ancient Greek 1. A little more than a year ago, I said things "would be a lot easier if I had Greek 1 this year." Greek 1 was such a blast, an amalgamation of several awesome friends plus some of the most lax curriculum I've ever seen. My second college fair I missed because I was absent, which really shouldn't be a surprise to anyone that knows me. (I'm going to do better this semester, promise.) This college fair, honestly, sucked, but it was good to go to nonetheless, and most of my key friends were there too.
Now, about thirty minutes ago I paid off my loan in Animal Crossing: Wild World, which is the biggest goal in the game. Keep in mind I got this game when it came out in December 2005. It was one of those things that I've always been meaning to do, but recently I finally buckled down and did it, mostly because I promised myself to do so before the Wii installment comes out. Doing so threw me back to when I first got it, and how much different I was back then, but also how similar. Wow, nostalgia. I can't believe events from two and a half years ago are being echoed today, but moreover I can't believe that was two years ago. It seems so close.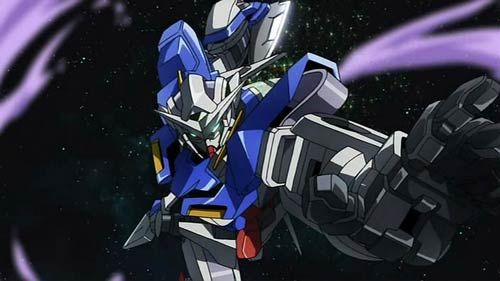 An anime I've been watching and referenced before, Gundam 00, has ended today. It was a great experience but was a bit too rushed, but it definitely helped me out in January, when "Ring Daybreak's Bell!" became my motto for a while. It helped push me forward in a way like the beginning of the year. It was probably the only thing I looked forward to at the end of each week. This October the second season starts, and I can't wait.
Gaming-wise, as most of you know I've been Brawling it up with the best of them, and even placed second in one of my forum tournaments. I'm really skilled with Luigi, but my Pit still needs a lot of work. All in due time.
Last Sunday, Easter, I also got Guitar Hero 3, which was on my Christmas list but I did lose interest. However, more and more I find myself wanting to play it more than Smash Bros. I'm also hooked on the final song, "Through the Fire and Flames" by Dragonforce. It lines up perfectly with my thoughts and feelings right now.
My sister and her fiance have now moved back into my house, and after we went through all that trouble of moving her down to our other house, too. With her baby on the way too, I try to keep my spirits high. Having her here offsets the fact my dad lost his job, because renting out the house to someone else guarantees we have another revenue stream coming, and more pairs of hands to work around here (plus my dad can work here all day now). While I envied Ashley during her high school years for all the fun she had, I also now see that after high school, there's the real world. And you can't just goof off through that, or you'll be where she is. Pregnant out of wedlock, and living with her parents at 21. Ashley, if you're reading this, I'm sorry. But every time you promised to make things better I believed you, so forgive me. I hope I go down a different path than her, because honestly, I see traces of her within me, too, and I could easily see this happening to me. I made fun of her for small things when I was in grade school and she was in high school, like how she had to keep taking naps, how she could never get up in the morning, how her grades slightly faltered. But now I'm doing even worse than she did! This is why I'm biting my tongue in saying I'm absolutely going to do better than she has, because it could definitely happen to me. But hopefully, it won't.
In school not only do I have three separate research projects all due next month in close proximity after each other, and after those I have the SAT, ACT, and an AP test (for my hopefully-future career, Computer Science) to take. It just hit me like a ton of bricks that the next two months could very well decide my entire future like no other time before in my life. I guess I was always putting off that realization. Before high school I was like "I'll focus on college when I'm in high school." When I finally got there, I put it off until this year. This year I put it off until now. Well, there's no more time to put it off anymore. This is the time to decide the future.
Also school-related, grades for the third marking period close tomorrow, and although I think I put in a good effort towards the end, I think the stress from Project Gforum severely hampered things. I'm never going to tackle a project like that ever again during the school year. I even got physically ill from the continuous late nights spent slaving over it. Never again.
Coming into this school year I knew it would be one of my most defining yet, and I really put the peddle to the metal. I faltered a bit in the middle, but now I think I'm back on track. Each year that passes by I grow more and more, and thanks to this blog I have a tangible record of that growth. This isn't the first time I've said it, but now I'm saying it for a completely different reason, the right reason: Thank you, Carol of the Bells.
In closing, I'm ready for the final strokes of the clock on this school year.
-Andrew