I am making progress. Great strides across many areas of my life are being undertaken. It started with the laborious Temple of Andrex upgrade. And it's continued in my demeanor, grades, and projects. These projects have been ongoing, but I've been succeeding with them, if only in small steps. First up to bat is finishing the Temple of Andrex, which is only 80% done. It needs a new history, and the GForum subsite requires a facelift, user-managed groups, and better integration with the GForum Show site. Another huge project connecting to this is of course the GForum Show itself, which is an ambitious Flash undertaking in and of itself. I am working on it, if anybody wants to know. No date yet.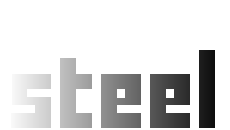 One of my greatest upcoming projects is called Steel. I'll reveal what it is here because I need to throw you loyal readers some exclusive info every once in a while (that is what bloggers do, right?): Steel is a programming language. While the specifications are barely finalized and I'm continuously working with my friend Thom on that, I've already started work on an interpreter built on my favorite language, C#. Thom is a scripted language guy (languages targeted for web and server use) and I'm more of a compiled language guy (native applications like .exe executables). It will be interesting to see the blend of these two methodologies in this language. Later on I'm planning for out-of-the-box support for game-specific methods and data types like models, animations, etc.
Other than these, the only tidbit I can say is it will almost not use the Shift key at all. Hardly one bit. How can we accomplish that? A lot of work is being put into it but I think the workarounds I've thought of are worth it for the increase in efficiency, readability, maintainability, and consistency. While Thom is a Mac person, C# is really a Microsoft-only language, and thus platform-freedom is not a big issue for the interpreter right now. But hey, Linux wasn't going to be multiplatform either, so who knows?
One year ago today marked the day the last episode of my favorite anime Ouran High School Host Club ended. :'(
As a tribute, I present this video, which is the second stanza of the ending theme:
Guided by faded streetlights that blink again and again
I go along on the usual way home

In the rusted town, a nostalgic wind blows
Turns into tailwind, and pushes my back

Until your tears dry, put away your resignation in your chest, STOP!
There's no goal; there's no turning back
An endless, driving sprint that cuts through the wind

Let's return those bitter days, won't you try opening it?
The Pandora's box that imprisoned your dream

Whether you go first or last, if you advance then everything's OK!
It's okay to rest; I know it
The progress up to here; that's your proof

Raise your right hand and left hand and slash apart the darkness, GO!
It's sad to think that a year ago it ended, but there is still Ouran spirit alive. The manga is being published continuing with no apparent end in site, and my favorite dubbing company (those who take and translate these Japanese cartoons for America), FUNimation, has licensed it for here. I don't know if it will be DVD-only or air on something like Cartoon Network, but at least it means I'll be able to keep my own promise. Somehow, when I was watching the episodes as they were coming out, I skipped episode 18. I have never watched it so far. Last year, I decided I'd make a sort of game out of it and made myself promise only to watch it when it was dubbed; this way, if Ouran was ever dubbed, I'd have a reason to watch the dubbed one over the original, and have a neutral viewpoint (I wouldn't be yelling "I can't believe they cut this from the episode…" or "WTF they totally screwed this up with the episode"). Since I've never seen it before, I'll have a clean slate when I view it in English.
When I was watching that now-one-year-old finale, I realized there is a little leg room for the series. While it is true the manga does not have enough content seperate from the anime to make another season, that will change some day. Hopefully it becomes popular over here so Bones (Ouran's production company) considers it.
Things are also going well in school. One weak area is homework, I just feel I have so much to do on the computer (a big chunk of which has been said above) that I disregard what I said. I'm even starting to bring it to school to work on Steel and the GForum Show. Otherwise, school's pretty good. I'm progressing as a gentleman, that's all I can say.

-Andrew