Today is officially the two-year anniversary of Carol of the Bells. 364 days ago I blogged the first "happy birthday" post and here I am, doing it again. Last time, it seemed like ages since I that first post. Now it seems like I made the birthday post just recently. It truly is amazing. Last time I noted that Carol of the Bells had transitioned three times to new layouts. In this past year, I have continued to use the Dark K3 template that's seemingly disappeared from Blogger Templates.
However, it has been very heavily modified from the one used a year ago. When I first used Dark K3, I announced it as Carol of the Bells Version 4.0. Since then I changed the logo, broke the comment system (twice), and even changed the name and purpose of this blog. I of course later changed everything back, and the Temple of Andrex and this blog are once again separate. It's been a long road from Version 4 to Version 5, that's for sure. As of this post, Carol of the Bells is in Version 5.3. This version has a working comment system, great banner, and everything else I love about the K3 template. The internal code is also stable and streamlined, thanks to me. Even little glitches have been eliminated. This version may be the most solid version yet.*
And as of tonight, I'm completely recoding the Temple of Andrex with a simple version that uses iFrames so I can easily make changes to the template. The last template was neat but I didn't make it, which kinda detracted from the whole point.
But enough with the web talk, it's boring. Anyways, as was posted on my blog on the first day of this month, I was going to start a new series called "Preservations & …", beginning with my experiences of a field trip that day. However, I'll have to start that later as I reloaded the tab I was writing it in, and I was almost finished. I know what happened that day, and I see no reason to write about it now.
Anyways, this summer seems OK. I'm addicted to Facebook but as always I see this website and the Temple of Andrex outlasting my interest for it. I'm ankle-deep in making a trailer for a new flash series of mine. It's coming along OK and I'm having a friend of mine retouch it so it won't burn anyone's eyes out. The current plan is to work on it all day, and then I can use the internet starting at 9 PM. After three days, it seems to be working. I've actually accomplished some stuff with it, and I'm not suffering from internet withdrawal.
Maybe because last school year was so bad, I'm actually thinking next year won't be that bad. I'm very much different than I was last June. I think I'm more tempered, more mature, and more experienced. This is probably a product of the Dreaded Sea. I think I've got the hang of things now, and I'm eliminating some things that have been making my high school career miserable. For one, I'm going to spend more time with my close friends, as I had been growing more and more out of touch with them. I'm also going to spend very little time with people that annoy me greatly, why I was with them so much instead of my true friends this year is beyond me. Maybe because I'm such a nice guy. Eh. I've been growing more agressive and assertive this year, just some more changes that have worked together to prepare me for adulthood.
However, while I'm ready for next year and I'm sure I can stand anything it can throw at me now, I know that some things will slip by and force changes in me. And once again, this coming school year will see the departure of some of my best friends, this time in the plural. My favorite class may be hell without them. In fact, George has been ticking me off more and more. Maybe because he was picked on at St. Joe's he feels the need to beat his chest and prove something to himself. Whatever it is, one of these days I'm going to set things straight. But as I was saying, this coming year will debut a ton of changes for me. But they'll change me in different ways than this year did.
There's been a lot of talk about the Batman Begins sequel, The Dark Knight. While I've been trying my hardest to avoid spoilers, I really have, so far I've gleaned many things from the coming film. The biggest tidbit that I've been drooling over it Batman's new suit. Check it!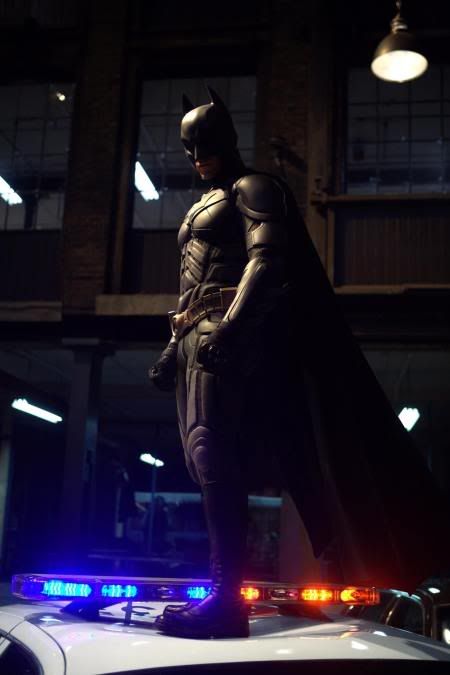 I really hope those rumors of a trailer being with Harry Potter or at Comic-Con are true.
-Andrew
* UPDATE 1: Actually, I'm going to recode some of the interior code for Version 5.5. I made the transition to 5.4 tonight, simply changing the visited link color. Nothing should change for you, but I'm striving to make it as W3 compliant as possible. Also, the upgrade should make a few things easier for me. Again, nothing should change for you, just letting you know.