I'm currently on a super-hero high courtesy of Spider-Man 3. Every new poster that's released hyped me up more than any other movie before it, but can you blame them?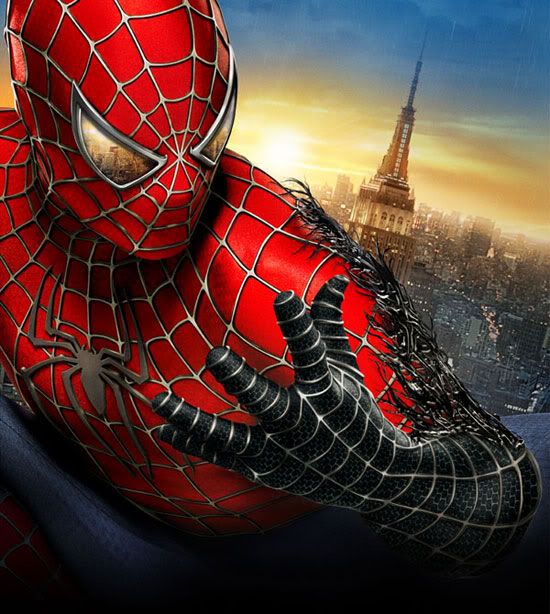 Beautiful. This hype has compelled me to give Batman Begins a second look. I watched the movie in theaters, but I never appreciated it fully because I didn't understand some things. But now that I rewatched it I can say: the movie was a frickin' masterpiece. There are just so many "OH SH*T!" moments (some from the car chase)… And it pulled off something Spider-Man can't (at least for me): total realism. You can actually believe that you'll walk out of the theater and some of that stuff could actually happen. However, it also has a kickass visual style to match. I must say the yellow + black works really well for the movie, but it's not overdone like in 300.
The original Spider-Man and its sequel couldn't take Batman Begin's spot on my flick list for that reason. They were just too campy. However, looking at the trailers, Spider-Man 3 may have corrected that, which may or may not be a good thing. Realism is very good, especially if you can do it with something that's based off a comic book. However, there are also some things I'm worried about. Will its new style interfere with its predecessors? Will it be able to give the characters emotional depth with so many villains? The original two movies had a balance between character development and insane fights, which were limited to about two per villain. With three villains, how will Spider-Man 3 have time to grow the characters? I hope it doesn't turn out like X-Men 3, which I also viewed recently, where it's all battle and no backbone. The "greatest battle lies within" mantra of the film is promising, but Peter will have to give that up early enough to battle Venom enough. (If you don't know what I'm talking about, don't worry. Just wait for the movie.)
As good as Spider-Man 3 will be, or as spectacular as I imagine it will be, my heart still lies with the Batman films. I have always been a bat-fan, possibly since birth as my father used to go around in a homemade batsuit before I was born. The realistic and dark atmosphere of Batman Begin's sequel The Dark Knight (director Chris Nolan promises "things having to get worse before they get better") might beat Spider-Man 3 on my list when its released. However, it also has one advantage previous Batman sequels never had: a recurring cast. Everybody, (minus Katie Holmes, who after a second look, is actually kinda annoying) will be returning, and I love it. Finally we can get attached to a bat-cast, and have that attachment live on in the sequels.
Last year, if you recall, I skipped out on C-channel lunch during May 9th to go home and watch the streaming Nintendo E3 press conference. C-channel last year was Computer Science. This year's May 9th lunch channel is B-Channel, which is this year's Computer Science. Same room, too. So in honor of all this "coincidence," I've decided to found a tradition and try and skip May 9th lunch channel this year too, and go see Spider-Man 3 five days after it comes out. By then the lines should dissipate and we might be able to get decent seats. I'm trying to get a bunch of people (friends, family) to come too and make an event out of it. May 9th was a huge turning point in my life last year; not because of the press conference, that would be really lame, but because it kinda embodied the spirit of the end of school/summer. So, here's for a great remaining school year, and I hope you'll be able to show up May 9th!

-Andrew