Wow, December's almost over huh? I haven't even done anything holiday-wise at all yet, which is a huge shift for me. Although if I had gone through all that pizzazz this year, I'd be counting down days and such, which would make this month really drag on.
And it's strange; last December was the hardest, loneliest month of school for me, and yet I blinked and this time it's almost over. Maybe it's because this year I'm not wandering around, stuck in the library and also because it's much warmer this year. I can't say I don't want snow, but I'm really enjoying the weather this time around.
However, for 80% of the school days this year, it's been really dark and really cloudy when I step off the bus. Everything is so surreal, and it looks like the old Twilight Realm from Zelda: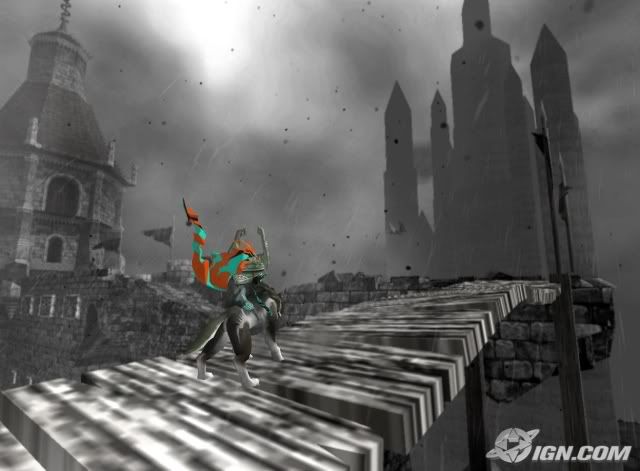 Is it just me, or does that castle on the right look a lot like Slater? It's almost scary. And it fits, too. Everybody is zombified in the mornings, and this entire year I can't really remember a time when I've talked for a long while to someone. It still feels like I'm in a transitional period like at the start of the year for all my classes.
However, so far this year has been, in my retrospective opinion, fairly easier than the last. Maybe it's because I don't have as much friction around me causing trouble… Maybe it's because I'm getting up later and spending more on breakfast and lunch, things I didn't do last year which make it much easier on me. Perhaps it's also my up-beat J-Pop music I've got on my CD player… Who honestly knows?
The item on my Christmas list this year is Microsoft's Zune, a media player similar to the iPod. However, I've always been anti-Apple, and Zune's bigger screen, wireless sharing, doubleshot effect, and customizable background made it a better deal in my opinion. I go on ten-hour trips at least once a year, so this should come in handy instead of having to tout a DVD player, my computer, and my CD player for a trip. I can't wait to download episodes of my favorite animes and TechTv shows to watch on the go.
For tomorrow's Latin/Greek club's Saturnalia party I decided to wrap-up three chocolate Santas. Who doesn't like chocolate and Santa? My grandmother and my friend Miranda both say they have some awesome gift for me. I should probably go shopping one of these days.
-Andrew
PS: A special video for the hardcore gamer in all of us is below. Merry Christmas.